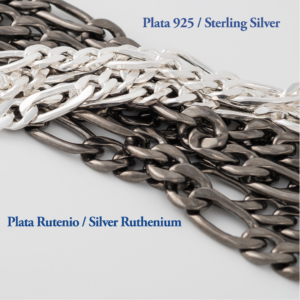 The Silver Ruthenium finishing is a black/shiny grey. We also can find it as black silver
With this ruthenium bath we can prevent the superficial oxidation of the chain, which grants a major durability to the chain.  It is original and different. It can be combined with other different styles pieces so we can have a more modern and versatile set.
If you want to know more about ruthenium or want to receive a price offer of ruthenium chains, click here and we will contact you shortly.
Guardar